The fact I am growing this plant is one of the most surprising to people. True, its certainly not something you would imagine successfully grown here in Iceland but it is incredibly easy. The grass can get very tall, about a metre or more and the leaves are not the most attractive but it is one of those plants worth growing if you use it. Store bought lemongrass here in Iceland is expensive, but more than that - what you can get is very far from fresh and that is when you can get it at all. With the exception of the Thai store at Hlemmur (Mai Thai) all of the stalks in the supermarkets are dry and unappealing. I cook a massive amount of Thai food, in all honesty if I didn't have children I would cook it 6 days a week, and this is an ingredient I use frequently.
Considering our location this is a plant for indoors, not in the greenhouse (unless you have a fully insulated heated one). Mine are happily living on the windowsills.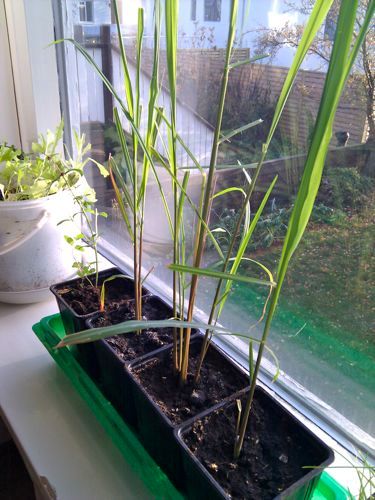 The plant is a slow grower, or at least has to grow for almost a year before the first harvest so patience is prime. I planted mine in late March and harvested for the first time a month ago. I decided to take only a small amount for use and split the rest apart to propagate.
This was as simple as growing the plant - which has literally been sown and watered well as the heat increased. Once the seedlings were strong enough to move I put them in their separate pots to grown on until now. I harvested some stalks, because they resembled the size you buy in the stores, by simply twisting the base until it came away. These I used and also froze a few.
The remaining stems I split into individuals with the roots attached and re-potted them. The idea is that by next Summer I will be harvesting off of each one continuously. The plant is renowned for its sturdiness and once established, it grows quickly and should be able to keep cropping for some years.